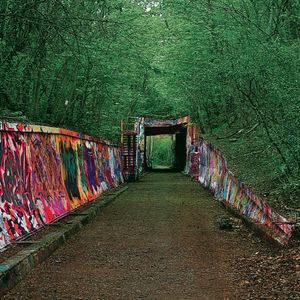 "Stand for your future, conquer the moocher, defeat the dog you glorify" (Excerpt taken from the track Teenage Scum by Parkes)    
Under inescapable and compelling high energy references such as Floyd, Bowie and Radiohead, newborn Parkes live show is a pulse riser; an absolute rush of highs and lows leaded by dynamic electric guitars towards an infinite peak; a living emotional experience for their first fans who jump and sing along their strong epic and heroic lyric message telling the story of Alpha, a man who finds salvation in the androgyny of his soul while helping a young generation to fight men's apocalyptic world domination. 
To print this feeling on tape, the LP "Generation Monochrome" is created as a combination of up and mid-tempos with an elaborate balance between energetic yet mellow guitars and synths dynamics. The process in defining a unique style within the boundaries of progressive pop-rock, indietronica and the experimental heartland rock, converges in "Moonlight", climax of what is projected as third single of the LP.  Recorded @blindrecords studios Barcelona. The band's autobiographical "Generation Monochrome"     
"We are committed to tell stories that reflect our relationship between us and music during our teenage years; a time where shaping or being shaped came down to luck and rarely to choice" Parkes
Rooted in Barcelona´s alternative rock live venues, Parkes eclectic formation´s musical backbone is run by frontman producer and writer  Gari DeAlda, who sends a conceptual epic and social message with a powerful and profound voice beyond the local alternative & indie rock scene. Ex "Very Far" lead and creative guitarist Emmi Salgado delivers a mellow yet overwhelming sound and a blast of positive energy as a stage performance together with Bassist Jesus "Patón" groovy fingers and Alex Merino, usual suspect in various local formations. 
                                                                                                   "